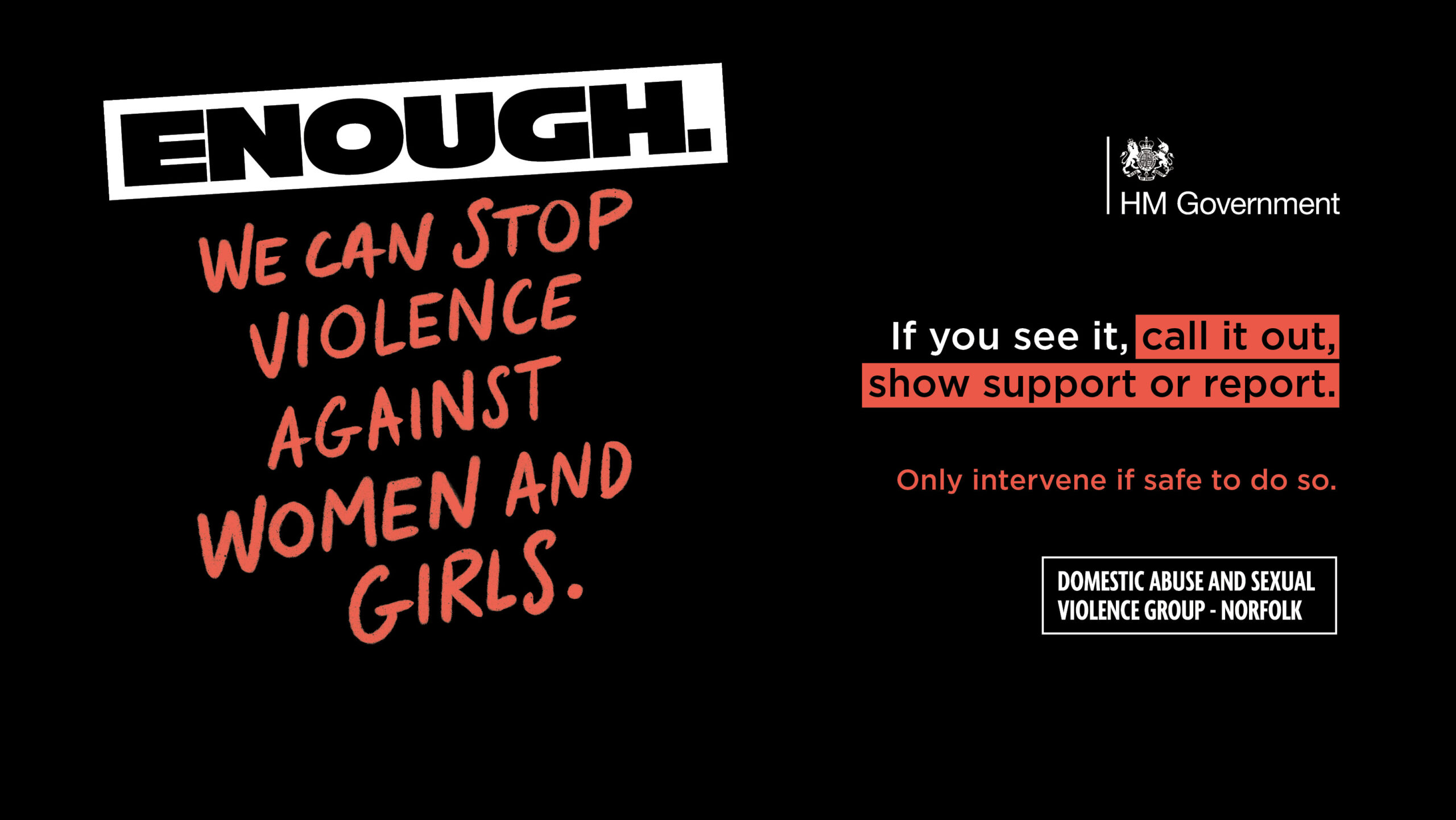 NIDAS Supports Government's Enough Campaign
The Government has recently launched a new campaign aimed at tackling and raising awareness of violence against women and girls.
NIDAS is pleased to join other organisations from across the county to support this excellent campaign and say "Enough" to all forms of violence against women and girls, including domestic abuse.
We all have a role to play in tackling violence against women and girls and raising awareness of the support that is available for those experiencing it.
Aims
The main focus of the campaign is to encourage people to call out the behaviour, support those experiencing it, and report incidences where women and girls are made to feel unsafe.
It specifically looks at the role of men, urging them to call out their friends and to also think about their own behaviour.
The campaign follows on from the murder of Sarah Everard in 2021, which highlighted how many women experienced stalking, harassment, and other violent crimes when going about their day-to-day lives.
By increasing awareness of these key issues, it is hoped that people will call out these behaviours and those experiencing it will come forward at the earliest opportunity.
The national campaign includes television adverts, billboards, social media, and radio advertising, highlighting the different forms violence against women and girls can take.
It will also provide information on what people can do to challenge perpetrators and highlight the support available for those that need it.
Local Response
In Norfolk, "Enough" campaign posters will appear on buses in Norwich and Great Yarmouth and bus shelters in Norwich, Great Yarmouth, and King's Lynn areas over the coming weeks.
There is also a "Street Safe" tool in Norfolk designed for members of the public to report areas where they feel unsafe.
This has currently highlighted top behavioural concerns as verbal harassment, people feeling like they are being followed as well as other forms of harassment.
If you would like to report an area you feel is unsafe, we are particularly encouraging women and girls to report, please click on www.police.uk.
If you are experiencing domestic abuse, contact us on 0300 561 0555 or via referrals@nidasnorfolk.co.uk. If you are in immediate danger, you must call 999.